Media Contact: Beth McGroarty
[email protected] • +1.213.300.0107
The Wellness Moonshot Goes Truly Global; The Global Wellness Institute Announces Strategic Partnerships in China, India and Israel
New partnerships significantly increase the reach of The Wellness Moonshot: A World Free of Preventable Disease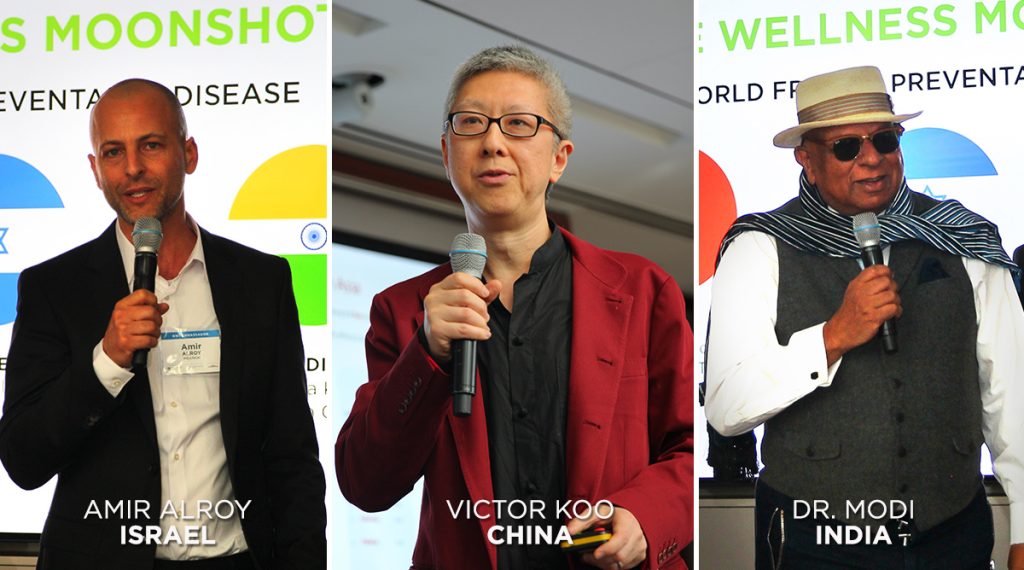 Miami, FL – February 26, 2020 – The Global Wellness Institute™ (GWI), a 501(c)(3) nonprofit organization with a mission to empower wellness worldwide by educating the public and private sectors about preventative health and wellness, today announced strategic partnerships in China, ­­India and Israel. The new international alliances were formed to spread the word about The Wellness Moonshot: A World Free of Preventable Disease in more countries in 2020.
The GWI's international partners for The Wellness Moonshot include China's Tianren Culture, a next-generation social platform that supports social enterprises; India's Smart Group, which was responsible for introducing mobile phones and electric cars to the country and sees wellness and prevention as central to India's successful future; and Israel's Welltech1, an innovation hub and micro-fund investing in wellness start-ups with a focus on making people healthier and happier.
"Lifestyle-related disease and the skyrocketing cost of healthcare have created a global crisis—roughly 70 percent of all deaths each year are a result of preventable diseases, while the global cost of preventable chronic disease is anticipated to reach $47 trillion by 2030," said the GWI's Chief Creative Officer and Executive Director Nancy Davis. "This is a crisis that the wellness industry is uniquely suited to positively impact, and it's with immense pleasure and pride that we introduce our new international partners in the mission to fight preventable disease."
As an umbrella organization that brings together often siloed forces and sectors all working to build a healthier world, the GWI is committed to bringing the issue of preventable disease to the forefront of its research and education efforts. The Wellness Moonshot: A World Free of Preventable Disease was launched in 2017 at the Global Wellness Summit; in 2019, the organization announced a partnership with Prevention magazine to help spread the word in the United States.
"As a result of economic development, the health and wellness issues we face globally have fundamentally changed. In China, for example, the top five leading causes of death are now exactly the same as they are in the US, many driven by lifestyle choices such as diet and smoking," said Victor Koo, co-founder, Tianren Culture. "The mission of The Wellness Moonshot is in line with Tianren Culture's vision of 'One Health, One Wellness' and its quest to positively impact lifestyle choices both for the health of people and our planet. We look forward to sharing the GWI's mission with a Chinese audience."
"It's a privilege to bring the visionary Wellness Moonshot initiative to Israel," said Amir Alroy, co-founder of Welltech1. "Chronic disease is the leading cause of death and disability in the world, including in Israel. It will be an honor to educate and share the valuable content created by the GWI. At Welltech1, we are committed to investing in and accelerating start-ups that make people healthier and happier—the Moonshot fits our goals perfectly."
"Wellness to me is having a pain-free body and a stress-free mind. In this era of redefined and rebranded aging, I live by the motto of living happy, healthy and wealthy beyond 100 years. Our generation is aging radically different than our predecessors, we are no longer bound by societal norms, and we continue to live our lives as we like," said Dr. Modi, chairman, Smart Group. "I firmly believe that preventive health and holistic healing holds the key to living this 'positively cool' life. With the continuous innovations in health and wellness, I'm very excited to be a part of the Wellness Moonshot movement in India and look forward to seeing the changes we can bring together."
About the Global Wellness Institute: The Global Wellness Institute™ (GWI), a 501(c)(3) nonprofit organization, is the leading research and educational resource for the global wellness economy. Through its five pillars—research, industry initiatives, roundtable discussions, Wellness Evidence and The Wellness Moonshot: A World Free of Preventable Disease—the GWI informs and connects key global stakeholders who impact the health and wellness of our planet and its citizens. The GWI's mission is to empower wellness worldwide.