Media Contact: Beth McGroarty
[email protected] • +1.213.300.0107
Global Wellness Institute Adds Leading Experts to Its Board of Directors
Leadership coach and workplace wellness authority Renee Moorefield, PhD, and health and wellness entrepreneur Michelle Floh bring deep experience to nonprofit organization behind extensive education and research into $4.5 trillion global wellness economy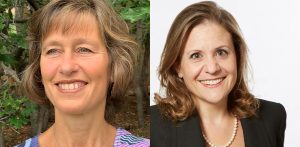 Miami, FL – December 16, 2019 – The Global Wellness Institute™ (GWI), a 501(c)(3) nonprofit organization with the mission to empower wellness worldwide by educating the public and private sectors about preventative health and wellness, today announced the appointment of two new members to its board of directors. The new appointees, Michelle Floh, CEO of the Rona & Jeffrey Abramson Foundation, and Renee Moorefield, PhD, CEO of Wisdom Works, will bring new expertise to the 13-member board as the organization continues to expand its impact within the sectors that comprise the $4.5 trillion global wellness economy. See the full list of GWI board members here.
In addition to its global research, which is made available free to the public, the GWI acts as an umbrella organization bringing together often-siloed sectors that are committed to helping to build a healthier world. For example, GWI recently announced a 2020 collaboration with Prevention magazine for its The Wellness Moonshot Calendar: A Year of Inspiration, expanding the reach of its calendar to over 13.5 million people and delivering monthly insights on how to lead a healthier, happier life. In addition, the GWI trumpets evidence-based wellness modalities through its dedicated Wellness Evidence website, making it easy for wellness professionals and wellness seekers alike to access extensive medical research and studies.
"I'm thrilled to welcome Renee and Michelle to the Institute's Board of Directors. Their vast insights and unique backgrounds will inform many of the programs, initiatives and projects the GWI develops in its goal to positively impact global health and wellness," said Susie Ellis, chairman and CEO of the Global Wellness Institute.
Moorefield and Floh increase the GWI's board to 13 members, joining health and wellness-minded leaders such as Dr. Richard Carmona, chief of health innovation, Canyon Ranch and 17th surgeon general of the United States; Sue Harmsworth MBE, founder of ESPA International; and Mia Kyricos, SVP & global head of wellbeing, Hyatt Hotels Corporation.
Moorefield has been part of the GWI organization for years, chairing the successful Wellness at Work Initiative and helping to shape and guide the The Wellness Moonshot: A World Free of Preventable Disease campaign. Moorefield is also the co-author of Driven by Wellth and is the CEO of Wisdom Works, which is dedicated to building thriving and resilient leaders worldwide. She has worked with thousands of people seeking to lead from inspired purpose and vision, wellbeing and internal balance.
"It's an honor to be part of an organization that's mission is to be a transformative platform that amplifies the principles and practices of wellness leadership across industries, geographies and sectors globally," said Moorefield. "The GWI also shares my personal goal to make wellbeing a priority wherever we work, live and play.
Floh leads the Rona & Jeffrey Abramson Foundation, a nonprofit which is focused on improving the health and wellness of families—particularly women and girls—worldwide. In this role, Floh draws on her diverse experience in both private and public healthcare sectors in America and Canada, where she developed a passion for technological innovations that promote health and wellness, improve accessibility, and deliver quality care.
"I'm privileged to join the GWI, a trusted organization that provides the wellness industry—and its varied sectors—with fresh ideas and best practices," said Floh. "Success is never achieved by chance, and I look forward to participating in imagining, planning and implementing strategies based on GWI's vision to inspire and improve access to wellness worldwide."
About the Global Wellness Institute: The Global Wellness Institute (GWI), a nonprofit 501(c)(3), is considered the leading global research and educational resource for the global wellness industry and is known for introducing major industry initiatives and regional events that bring together leaders to chart the future. GWI positively impacts global health and wellness by educating public institutions, businesses and individuals on how they can work to prevent disease, reduce stress, and enhance the overall quality of life. Its mission is to empower wellness worldwide.