Media Contact: Beth McGroarty
[email protected] • +1.213.300.0107
Global Wellness Institute Releases New Data and Trends on Middle East-North Africa Wellness Travel at Arabian Travel Market
MENA wellness tourism growing 6%, and spa revenues 10%, annually – a unique market, with more than two-thirds of wellness travel spend coming from inbound tourists. Regional trends span a shift from "generic luxury" to indigenous-to-MENA wellness experiences and domestic wellness tourism poised to gain on international
Miami, FL – April 25, 2017 – Miami, FL – April 25, 2017 – Today at the Arabian Travel Market (ATM) in Dubai the Global Wellness Institute (GWI) released data on recent growth, and unfolding trends, for the Middle East/North Africa (MENA) wellness tourism and spa markets. Despite security concerns for countries like Egypt, Israel, Jordan, Morocco & Tunisia, MENA's wellness tourism revenues grew 6% annually from 2013-2015 (from $7.3 billion to $8.3 billion), exactly on pace with global growth rates. And MENA's spa market grew even faster: annual revenues jumped from $1.7 billion to $2.1 billion, or 10% annual growth – five times faster than the average global growth rate of 2%. The research reveals that MENA is a very unique wellness tourism market: for instance, globally, only 33% of wellness travel revenues come from inbound tourists, but in MENA, the inbound spend accounts for 68% of the market. And the UAE remains the regional powerhouse, with a wellness tourism market now nearly two times bigger ($2.7 billion) than its closest competitor, Morocco ($1.5 billion) – and a spa market roughly three times larger ($742 million) than #2 market, Saudi Arabia ($255 million.)
The research was presented at the ATM's GWI-curated Wellness Symposium, bringing together travel and hospitality experts to discuss everything from the government's role in wellness tourism to hot regional trends. And GWI Chairman and CEO, Susie Ellis, spotlighted eight MENA wellness travel trends to watch: from wellness properties evolving beyond could-be-anywhere luxury to finally embracing indigenous-to-the-region wellness experiences to a host of factors indicating that domestic wellness travel will gain on inbound/outbound in coming years.
Read the GWI's "Middle East-North Africa Wellness Economy Monitor" (released today) here.
Steady Growth for Wellness Tourism: Despite recent security concerns for a number of MENA nations, wellness tourism revenues grew 6% annually from 2013-2015, right on pace with the average global growth rate of 6.6%. The region added $1 billion in wellness travel revenues and 1.5 million wellness trips across those two years.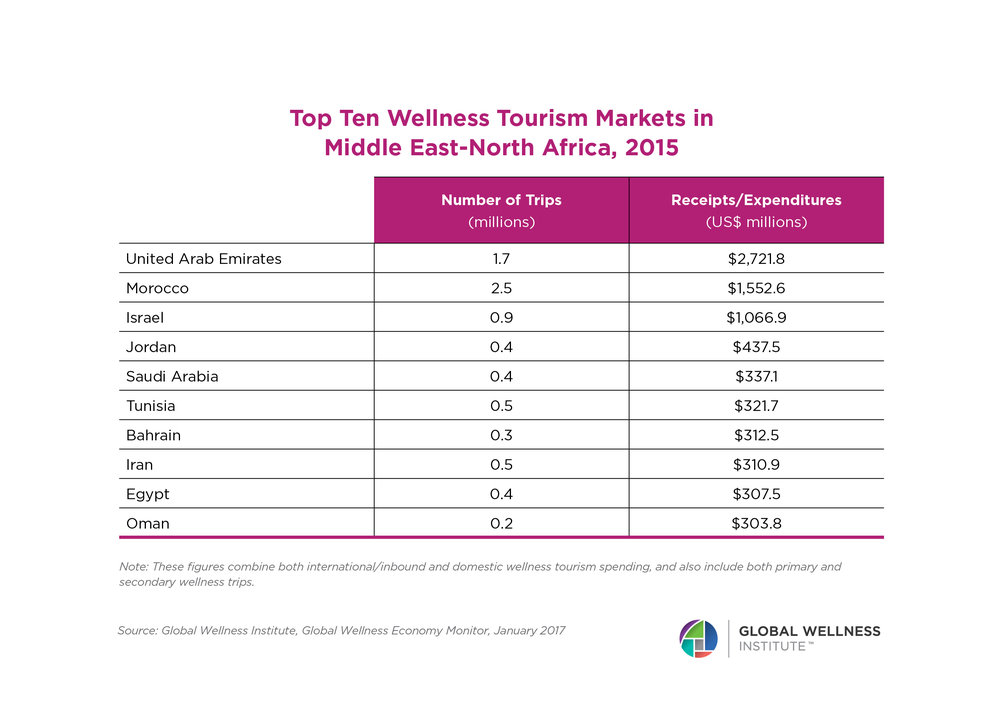 The UAE remains the strong leader, with a wellness tourism market more than twice as big as its next closest competitors, Morocco and Israel, combined. Notable 2013-2015 gainers: the UAE (adding 500,000 trips and $472 million in revenues); Oman (doubling trips from 100,000 to 200,000 and adding $96 million in revenues); Bahrain (adding 100,000 trips and $132 million in revenues); and Iran, which didn't rank in the top ten in 2013, but now drives 500,000 annual wellness trips worth $311 million. A notable decliner: Tunisia, which shed 300,000 wellness trips and $107 million in revenues.
Inbound Market Dominates: Globally, wellness tourism is heavily dominated by the domestic spend (67% of market), but for MENA precisely the opposite is true: 68% of the region's wellness travel revenues come from inbound wellness tourists. And the same holds true for the UAE, if less sharply: domestic wellness tourism is worth $1.2 billion annually vs. an inbound market of $1.5 billion.
MENA Wellness Travel Breakdown:
DOMESTIC INBOUND           INTERNATIONAL
Wellness trips                      4 million                            4.5 million
Revenues                             $2.72 billion                       $5.6 billion
Explosive Spa Market Growth: MENA clocked the second fastest annual percentage growth for spa industry revenues (10%) among all world regions between 2013-2015 (the average was 2%) – trailing only the very small market of Sub-Saharan Africa (18% annual growth). And the MENA spa workforce will only continue to boom: projected to grow 37% from 2015-2020, to reach 88,222 employees.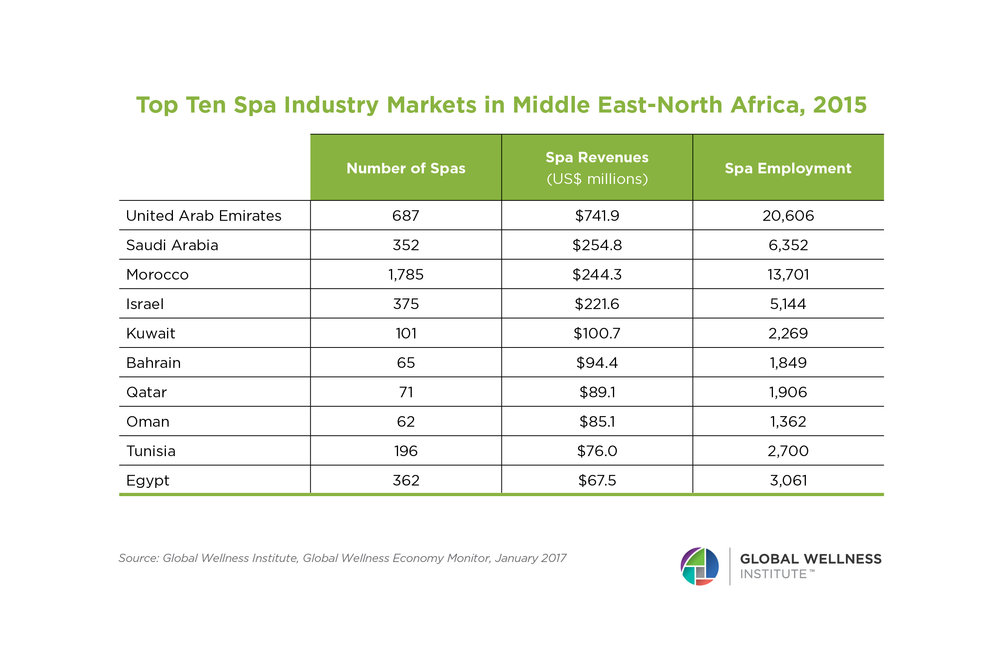 The UAE is again the heavy-hitter, driving 35% of the region's spa revenues, and with strong growth from 2013-2105: adding 121 spas and $160 million in spa revenues, to become one of the world's top twenty spa markets (#19). Another important story: Saudi Arabia leapfrogging Morocco and Israel to become the #2 spa market, adding roughly $75 million in revenues. Other standout growth markets: Bahrain adding $42.1 million, Kuwait $32.3 million, Oman $21.6 million, and Qatar $18.4 million, in spa revenues across those two years.
8 MENA Wellness Travel Trends to Watch
1) Move from generic luxury to indigenous wellness experiences: The most powerful global travel trend is the hunger for all things authentic and unique to the "place," but the 1,000+ years of sophisticated, nature-based traditional wellness and beauty systems from across MENA and the Arabian Peninsula have remained largely under-exploited. This will change and wellness properties will increasingly embrace indigenous experiences: from the global phenom of the hammam and sand-bathing/treatments to indigenous, ancient "super" foods/ingredients (including baobob, frankincense, camel's milk, sidra fruit, teff, freekeh, dukkah, za-aatar, etc.) and ancient (often brilliant) indigenous design/architecture principles.
2) Wellness Communities & Lifestyle Real Estate: Are one of the fastest-growing global wellness markets (now worth $119 billion), but the MENA "wellness living" market is just getting started (worth $500 million). Growth lies ahead, and the focus is strongly mixed-use: part hospitality, part wellness residence concepts, like MAG of Life's partnership with well-building pioneer DELOS, for the coming Life Creek Resort in Dubai, which includes wellness residences and a wellness hotel. Six Senses Gammarth, Tunisia, where the resort + residences celebrate Tunisia's rich Berber, Ottoman and Arab cultural and wellness history, is another example.

3) Luxury Wellness 2.0: Over-the-top luxury will remain crucial to the MENA wellness tourism brand, but the next "luxury wellness" chapter will go deeper than spectacular one-upmanship design: with a bigger property focus on everything from professionals trained in lifestyle change, stress reduction, mental wellness and indigenous traditions/medicines to a needed focus on environmental and social consciousness. The wellness angles will get more creative and meaningful: like the Oasis Eco Resort (coming to Abu Dhabi, 2020), billed as "the world's greenest resort", with everything from a wildlife biology department to guests foraging for organic produce.
4) A Happiness Focus: Nations are increasingly looking beyond GDP/economic growth, to focus on happiness, measuring and addressing citizens' total wellbeing from social connection to healthcare access. The UAE is a trailblazer, with a national happiness initiative and the world's first Minister of Happiness. This could cast a positive "halo" for the nation's wellness tourism, and countries in the region/worldwide will watch how happiness initiatives might impact everything from healthcare costs to social trust.
5) Evolving Medical-Wellness Destinations: The GWI typically cautions that medical and wellness tourism concepts and promotion should be kept separate. But the Middle East is a special case, with more unique and blended medical-wellness (and cosmetic surgery and wellness) concepts and opportunities ahead. One major example: Dubai Healthcare City, currently a 4 million square-foot healthcare zone with a focus on elective/aesthetic procedures, but with a Phase 2 goal of becoming the "world's biggest wellness center", complete with wellness hotels and residences.
6) Workplace Wellness Growth: While workplace wellness is now a $43 billion global industry, with an average 9% of workers worldwide covered by some form of wellness program, the MENA region lags: only 7% of workers (91 million) are under a workplace wellness program, representing a nascent market of $1.1 billion. The future: a growing workplace wellness focus/market in rapidly growing Gulf countries such as Saudi Arabia, Qatar, and the UAE, where obesity and chronic disease are skyrocketing. This will boost all wellness sectors: from fitness and healthy food to the healthy meetings, conventions and travel markets.
7) Hot Potential for Hot Springs: Tunisia, Morocco, Algeria and Iran all have extensive natural thermal/mineral springs resources without major hospitality/tourism infrastructure to support them. With a renaissance in authentic hot springs bathing worldwide, development in those nations looks to heat up.
8) Domestic Wellness Travel Growth:  A host of forces, like lower oil prices, currency depreciation, and travel bans from (and "perception" issues with) the U.S., are poised to slow outbound MENA wellness travel growth. Meanwhile, economic slowdowns in key source countries like Saudi Arabia, Russia and China – and security concerns in places like Egypt, Israel, Jordan, Morocco, and Tunisia – are negatively impacting inbound travel. While international MENA wellness tourism is still growing, catering to the domestic and inter-regional wellness tourist and their cultural and religious sensitivities will become more paramount.
For more information on the research or today's Wellness Symposium at the ATM, contact Beth McGroarty: [email protected] or (+1) 213-300-0107
About the Global Wellness Institute: The Global Wellness Institute (GWI), a non-profit 501(c)(3), is considered the leading global research and educational resource for the global wellness industry, and is known for introducing major industry initiatives and regional events that bring together leaders to chart the future. GWI positively impacts global health and wellness by advocating for both public institutions and businesses that are working to help prevent disease, reduce stress, and enhance overall quality of life. Its mission is to empower wellness worldwide. www.globalwellnessinstitute.org
Arabian Travel Market (ATM) is the leading international travel and tourism event in the Middle East for inbound and outbound tourism professionals. ATM attracts around 40,000 industry professionals, agreeing on deals worth US $2.5bn over the four days. Next event: April 24-27, 2017. www.arabiantravelmarket.wtm.com