Media Contact: Beth McGroarty
[email protected] • +1.213.300.0107
---
All GWI Press Releases   |  Global Wellness Institute Press Room   | Global Wellness Summit
---
Global Wellness Institute (GWI) Launches "Geography of Wellness" Microsite to Spotlight Country-specific Wellness Economy Data
Singapore announced as first country partner of GWI's Geography of Wellness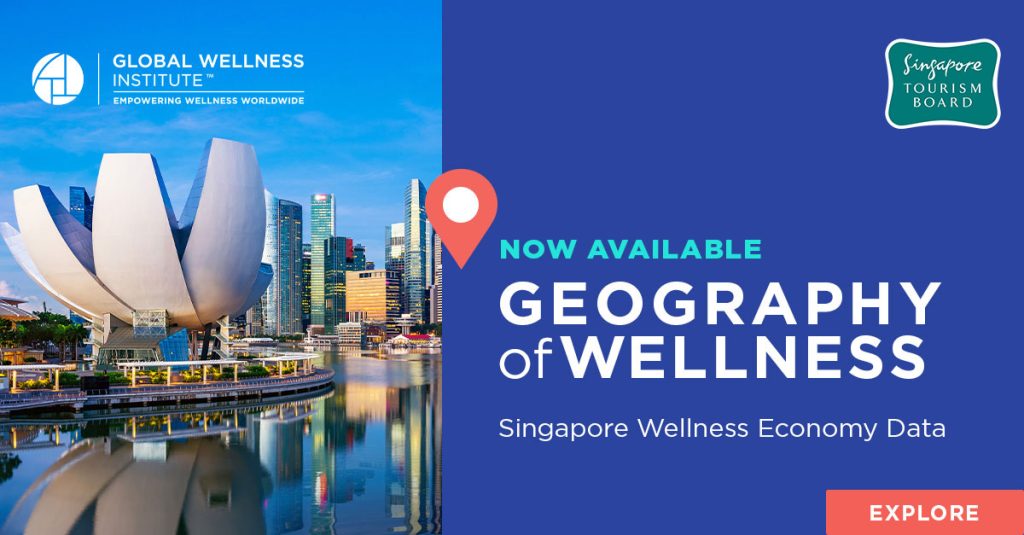 Miami, FL – May 16, 2022 – The nonprofit Global Wellness Institute (GWI), the leading research and educational resource for the $4.4 trillion global wellness industry, today launched "Geography of Wellness" with the help of its first country partner, Singapore. The new GWI microsite takes a deep dive into a country's wellness economy, painting a clear picture of where it is positioned in the booming wellness market and giving countries a platform to showcase their wellness assets.
Susie Ellis, GWI chair and CEO, explains, "Every destination has something unique to offer when it comes to wellness – both for locals and tourists alike – and forward-looking countries and regions are realizing that there is no better time than now to start planting the seeds to grow the positive impact wellness will have on its citizens, community and economy in the years to come."
GWI's 2021 research report, "The Global Wellness Economy: Looking Beyond Covid," forecasts that the wellness economy is on track to expand to $7 trillion by 2025[1].
"Wellness is on a huge upwards trajectory and GWI's rich country and regional data is a key tool for helping investors, business leaders and government agencies crystalize the significant wellness market opportunities ahead," continued Ellis. "We're grateful to the Singapore Tourism Board for recognizing this and for making Singapore GWI's first country partner in our new 'Geography of Wellness' platform."
Wellness in Singapore
Singapore is home to a diverse and holistic wellness ecosystem that covers mental and emotional wellbeing, fitness classes and unique lifestyle experiences. Whether pursuing an active lifestyle, seeking innovative urban wellness concepts, or just spending time in nature, Singapore promises leisure and business travelers a wide range of high-quality, safe, and accessible wellness experiences.
From innovative fitness offerings like in-mall climbing gyms and aqua spinning, unique mindfulness practitioners with urban forest bathing services and floatation therapy, clean eating gastronomic experiences, and 5-star wellness hotels for the perfect respite, the ideal wellness getaway is easily within reach in Singapore. This June 3-12, Singapore will launch its inaugural Wellness Festival Singapore, the country's first nationwide effort to promote holistic wellbeing that boasts a 10-day line-up of over 130 offerings to showcase the breadth of quality wellness experiences available.
According to GWI's research, Singapore's wellness economy is ranked #14 among Asia-Pacific's 45 countries, a region that was also one of the fastest-growing wellness markets (+8.1%) between the 2017 to 2019 pre-pandemic years and shrank the least during 2020 (-6.4%).
GWI's Geography of Wellness also highlights Singapore's standings in the eleven wellness sectors that GWI tracks within the wellness economy. In 2020, Singapore ranked among the top 30 countries in several categories, including #19 for Wellness Real Estate, #29 for Public Health, Prevention, & Personalized Medicine, and #30 for Traditional & Complementary, among the 218 countries worldwide where GWI collects data.
"The wellness economy data that GWI provides is important as it will help us identify opportunities to grow Singapore's appeal in the wellness tourism space," said Ms. Ong Ling Lee, Executive Director, Sports & Wellness, Singapore Tourism Board. "As a city in nature where rest and rejuvenation are just a heartbeat away, we believe Singapore is well-positioned to be a leading Urban Wellness haven. Our accessible and innovative wellness offerings set us apart from other destinations. We welcome new ideas, partnerships and solutions to further develop our wellness offerings and ensure they appeal to visitors of different interests and passions, to enjoy quality respite in Singapore."
In addition to featuring country-specific wellness economic data in the Geography of Wellness section of the GWI website, which is considered the leading online resource for unbiased global wellness research, the partnership also includes a dedicated Singapore Wellness Economy Report. This report, which is free to download thanks to the support of the Singapore Tourism Board, takes a detailed dive into Singapore's position in all eleven wellness sectors. The report and its data are an invaluable tool for businesses or investors interested in exploring the opportunities and potential of Singapore's dynamic wellness market.
Interest in GWI's Geography of Wellness microsite has been robust and the research organization is preparing additional country reports to be released soon.
About the Global Wellness Institute: The Global Wellness Institute (GWI), a nonprofit 501(c)(3), is considered the leading global research and educational resource for the global wellness industry and is known for introducing major industry initiatives and regional events that bring together leaders to chart the future. GWI positively impacts global health and wellness by educating public institutions, businesses and individuals on how they can work to prevent disease, reduce stress and enhance the overall quality of life. Its mission is to empower wellness worldwide.
[1] https://globalwellnessinstitute.org/press-room/press-releases/2021-gwi-research-report/