Media Contact: Beth McGroarty
beth.mcgroarty@globalwellnessinstitute.org • +1.213.300.0107
European and Italian Wellness Markets Post Strong Two-Year Growth
• New Global Wellness Institute research reveals wellness is now a $4.2 trillion (€3.6 trillion) global industry, with 12.8% growth from 2015-2017  •  Europe ranks #1 worldwide for wellness tourism trips and spa revenues, with fastest-growing workplace wellness market  • Italy ranks in top-10 worldwide for wellness tourism, spa revenues, thermal/mineral springs and workplace wellness.
Cesena, Italy – October 8, 2018 – The global wellness industry grew 12.8% in the last two years, from a $3.7 trillion (€3.2 trillion) market in 2015 to $4.2 trillion (€3.6 trillion) in 2017, according to an in-depth research report, the 2018 Global Wellness Economy Monitor, released today by the non-profit Global Wellness Institute (GWI). This new data on the ten markets that comprise the global wellness economy provides fresh evidence that wellness remains one of the world's biggest and fast-growing industries.
From 2015-2017, the wellness economy grew 6.4% annually, nearly twice as fast as global economic growth (3.6%).* Wellness expenditures ($4.2 trillion/€3.6 trillion) are now more than half as large as total global health expenditures ($7.3 trillion/€6.3 trillion).** The wellness industry now represents 5.3% of global economic output.
The report was released today at the 12th-annual Global Wellness Summit being held at Technogym Village in Cesena, Italy, which has attracted 630+ industry leaders from 45 nations. And at today's press conference the spotlight was on the strong, recent growth seen in European and Italian wellness markets.
From the finding that Italy's spa industry revenues jumped nearly one-third from 2015-2017 to the fact that Italy ranks 7th worldwide for workplace wellness expenditures, you can access it all IN THE FULL REPORT HERE.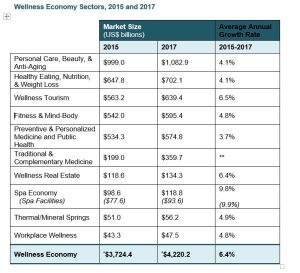 **For the complementary medicine market, the definition changed since 2015 (adding traditional medicine sectors like Ayurveda, Traditional Chinese Medicine), so a formal percentage growth can't be provided.
Spotlight on 5 Markets – Global, European & Italian Data
Wellness Tourism
Global: The $639 billion (€552 billion) global wellness tourism market's annual growth rate of 6.5% from 2015-2017 is more than double the 3.2% growth rate for tourism overall. World travelers made 830 million wellness trips in 2017, 139 million more than in 2015—now representing 17% of total tourism expenditures.
Europe: Europe ranks #1 in the world for annual wellness trips: 292 million in 2017, up from 250 million in 2015—an 8.1% annual growth rate. (Asia-Pacific ranks #2 with 258 million trips.) Europe ranks #2 in the world for wellness travel revenues, at $211 billion (€182 billion) yearly in 2017, up from $193 billion (€167 billion) in 2015. (Trailing only North America at $242 billion/€209 billion in revenues.)
Italy: Ranks as the 10th largest national wellness tourism market in the world, with $13.4 billion (€11.6 billion) in annual revenues in 2017, up from $12.7 billion (€11 billion) in 2015. And Italy ranks as the 12th fastest-growing market for wellness trips, adding 2.7 million trips from 2015-2017, to reach 13.1 million a year. Wellness tourism currently employs 150,000 people in Italy.
Wellness tourism has deep roots in Europe, and governments and destinations are looking to it to differentiate their tourism sector and combat over-tourism. For instance, Italy recently launched Terme d'Italia, a project aimed at stimulating demand for spas/wellness resorts in eight regions.
Spa Industry
Global: The world spa economy grew from $98.6 billion (€85.2 billion) in 2015 to $118.8 billion (€102.7 billion) in 2017—9.8% annual growth, much higher than the pace from 2013-2015 (2.3%). Spa locations jumped from 121,595 in 2015 to over 149,000 in 2017.
Europe: Europe leads the world in spa revenues, with a $33.3 billion (€28.8 billion) annual market in 2017 that grew 10.1% yearly since 2015. Almost 1 in 3 of the world's spa locations are in Europe (46,282 spas) and almost 1 in 3 dollars spent at spas happens in Europe. The European industry employs 883,352 people.
Italy: Italy ranks as the 6th-largest spa market in the world with $3.24 billion (€2.8 billion) in revenues in 2017, jumping from $2.46 billion (€2.1 billion) in 2015—a gain of 32%. There are 3,954 spas in Italy, up from 3,023 in 2015, now employing 83,139 people.
Thermal/Mineral Springs
Global: The thermal/mineral springs sector grew from $51 billion (€44 billion) in 2015 to $56.2 billion (€48.6 billion) in 2017, while facilities jumped from 27,507 to 34,057. The industry is intensely concentrated in Asia-Pacific and Europe, which account for 95% of revenues.
Europe: Europe, where thermal springs have been part of wellness rituals for centuries, is the 2nd-largest market in the world (trailing only Asia-Pacific), with 5,967 establishments earning $21.7 billion (€18.7 billion) a year. The market grew from $19.7 billion (€17 billion) in 2015, or 4.9% annually—and employs 438,424 people.
Italy: Ranks as the 5th-largest thermal/mineral springs market in the world, with 768 facilities earning $1.7 billion (€1.5 billion) in revenues a year. Italy trails only China, Japan, Germany and Russia globally.
Workplace Wellness
Global: Valued at $47.5 billion (€41 billion), the workplace wellness market remains very small compared with the massive economic burden and productivity losses (10-15% of global economic output) associated with an unwell, disengaged workforce. Only 9.8% of employees worldwide (321 million people) are covered by some form of workplace wellness program.
Europe: Europe is the 2nd-largest workplace wellness market, with $17 billion (€14.7 billion) spent annually (trailing only North America at $17.6 billion). And Europe is the #1 growth leader globally: adding $1.6 billion (€1.4 billion) in workplace wellness spend since 2015. Twenty-five percent (101.3 million) European workers now have access to workplace wellness programs/services.
Italy: Ranks 7th worldwide for workplace wellness expenditures, with a market worth $1.63 billion (€1.4 billion) in 2017.
Wellness Real Estate:
Global: Real estate that incorporates intentional wellness elements into its design, materials and building (and amenities and programming) is growing fast, as more people want to bring more health into the places where they spend the majority of their time. The market grew from a $118 billion (€102 billion) in 2015 to $134 billion (€116 billion) in 2017, or 6.4% a year. There are now 740+ wellness real estate projects built or in development across 34 countries.
Europe: Is the 3rd-largest wellness real estate market, behind North America and Asia-Pacific. It grew from $29 billion (€25 billion) in 2015 to $31.7 billion (€27.4 billion) in 2017, or 4.5% a year. There are currently 61 wellness real estate projects built or in development across Europe. The GWI notes that Europe (and Italy's) historic spa towns have an opportunity to redevelop themselves as healthy living communities.
Italy: Italy is the 16th-largest wellness real estate market globally, worth an annual $1 billion (€864 million).
For more information, or to speak to GWI researchers, contact Beth McGroarty: beth.mcgroarty@globalwellnessinstitute.org or (+1) 213-300-0107 or Betsy Isroelit, betsyisroelit@gmail.com, (+1) 213-300-0107.
*Global GDP data: IMF, World Economic Outlook Database, April 2018 Edition
**Global health expenditures data: WHO, Global Health Expenditures Database. 2015 data most recent year available.
***The GWI develops original data for five sectors: wellness tourism, spa, thermal/mineral springs, workplace wellness and wellness real estate. For the other 5 sectors, secondary global industry data is evaluated and aggregated.
About the Global Wellness Institute: The Global Wellness Institute (GWI), a nonprofit 501(c)(3), is considered the leading global research and educational resource for the global wellness industry and is known for introducing major industry initiatives and regional events that bring together leaders to chart the future. GWI positively impacts global health and wellness by advocating for both public institutions and businesses that are working to help prevent disease, reduce stress, and enhance the overall quality of life. Its mission is to empower wellness worldwide.