Media Contact: Beth McGroarty
[email protected] • +1.213.300.0107
---
All GWI Press Releases   |  Global Wellness Institute Press Room   | Global Wellness Summit
---
Eight Global Wellness Trends and How They Will Impact the Future of Fitness
Global Wellness Institute's CEO, Susie Ellis, presents "The Future of Wellness and Fitness" at
IHRSA 2022; Trends include: the move to creatively combine fitness and nature; new "survivalist" approaches, making people fit for a volatile future; and the fitness industry waking up to the inconvenient truths about toxic muscularity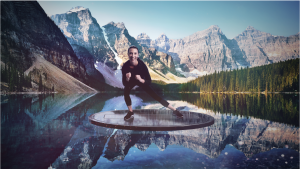 Miami, FL – June 22, 2022 – The pandemic has sparked profound shifts in what consumers perceive as "true wellness" – what they want, need and expect has fundamentally changed. In a session taking place today (1-1:45PM EST) at IHRSA 2022 Miami (virtually and in person), the fitness industry will hear from Susie Ellis, CEO of the non-profit Global Wellness Institute (GWI). Ellis's wellness career is very firmly rooted in fitness: she holds both a Bachelor of Arts in Recreation Administration and an MBA. She began her career as a fitness instructor, pivoting to spa and wellness during her years of working closely with spa pioneer Deborah Szekely, founder of both Rancho La Puerta and The Golden Door. Ellis also served as a board member of the California Governor's Council on Physical Fitness and Sports alongside Arnold Schwarzenegger.
In today's session, Ellis explores how the wellness trends identified for 2022 by the Global Wellness Summit (in its annual, in-depth report) are specifically impacting the $738 billion physical activity economy, a sector that is set to nearly double to $1.2 trillion in 2025[1]. "The Future of Wellness and Fitness" explores eight 2022 wellness trends and how they will transform the future fitness industry.
The Future of Fitness from a Wellness POV: 8 Trends
Dirty Wellness: The New "Nature Economy" Impacts Fitness
Getting down and dirty in nature is crucial to overall wellness. The health of the world's soil and its impact of on human health is being researched and lauded. This, combined with the ways the pandemic radically elevated the value we put on nature and wilderness is a huge opportunity for the fitness industry. Many of us turned to the great outdoors: walking, hiking, cycling, climbing, gardening, camping, flocking to lakes and oceans to swim. The result? An outdoor equipment market that is exploding, rustic glamping that trumps 5-star luxury resorts, and an explosion in outdoor fitness programming. The app NatureQuant is a metaphor for this fitness-to-nature shift: like a FitBit that measures and prescribes your 120-minutes weekly dose of nature.
The future? More creative, soulful nature-meets-movement experiences: from wild swimming to jaw-dropping walks. The new farm-wellness resort Heckfield Place in the UK offers a whole slate of farm-focused wellness and fitness experiences, from a "Farm Fit" circuit that has you jumping over hay bales and milk churns to forest meditation. At travel destinations, deep-in-nature fitness adventures are now squarely positioned as mental health journeys. Native Like Water's Mexican retreats use surf therapy to specifically tackle depression and PTSD. In St. Lucia, Windjammer Landing created Underwater Breathwork, a sunrise dive to amplify the calming benefits of scuba diving with healing breathwork.
Toxic Muscularity Comes Clean: The Fitness Industry Needs to Lead in the Male Body Positivity Movement
Bulging biceps and rippling abs are being force-fed to men and boys on social media, by Hollywood, and by the fitness industry. This is creating a predictable negative effect on male body image and a rising crisis of male muscle dysmorphia, leading to obsessive dieting and weightlifting. Steroid abuse, hiding in plain sight in the shape of actors, athletes, fitness influencers and action figures–and the mental and physical consequences of this abuse (sometimes fatal)–will be increasingly exposed.
The male equivalent of the conversation about unhealthily thin female models and Barbie dolls is finally happening. We'll see more support groups like DUDE Mental Health. More actors that represent the muscular ideal—whether Bodyguard star, Richard Madden or Batman, Robert Pattison—become critics of muscle-worshipping culture. More brands, like Rihanna's Savage X Fenty and Bonobos blazing the trail for more realistic, less shredded male models.
Now it's time for the fitness industry to do some serious soul-searching about their relentless promotion of ripped, impossibly ideal male bodies–and the performance-enhancing drugs that get boys and men there. We predict more fitness brands will step up as leaders in the male body positivity movement.
From Wellness Tech to Technological Wellness: Fitness Industry Doubles Down on Community/Connections
After two-plus years of digital wellness and fitness, consumers are now returning to real-world experiences in droves (Mindbody reports 83% are now booking in-person classes). The headlines now swirl about "the revenge of the gym," "the end of the home workout," and how gym brands like Planet Fitness and Lifetime are seeing surging revenues, while Peloton sees a drop in active users.
The future? In-real-life fitness brands will double down on community, on tribe-building, and on mental wellness, as their difference-maker. You see it everywhere: Tracy Anderson's buzzy fitness classes have added "The Work-In," community conversations about mindset and motivation and life that happen off the mat–while SoulCycle founders' new "relational fitness" concept, Peoplehood, billed as a "workout for your soul" is a metaphor for the new directions. Peoplehood leads with community rather than fitness (although stretching and breathwork are involved).
Senior Living Disrupted: Fitness needs to Address Older Bodies and Beginners with Simpler, More Joyful, More Functional Exercise

A recent article in the Atlantic, "What the Fitness Industry Doesn't Understand," questions an industry that has revolved around endless, buzzy new fitness concepts aimed narrowly at the young and already fit. It asks a crucial question: why is accessible, basic, beginner-level exercise treated like some niche? Why do gyms and studios lead with intense, overly complex routines that leave older people and novices behind?
Demographic shifts don't support this approach: for instance, our world is aging faster than ever in history. The future of fitness is simpler, more joyful, less punishing, more accessible, more welcoming, and more inclusive of all bodies and ages exercise for people who don't want to get ripped and instead seek a basic strength and movement approach.
A new generation of fitness leaders are focusing on simple skills that make an impact. Hampton Liu is all about making exercise approachable for any age or skill level and teaches a remedial online PE course for adults from his backyard, and has amassed millions of followers on social media. Planet Fitness's success comes from its beginner-friendly, low-cost proposition; Kakana focuses on classes for people with limited mobility; Joyn and Form Fitness in Brooklyn are all about exercise for all bodies, ages, and ethnicities.
Urban "Wellness Playgrounds": Bringing Fitness to All
The pandemic exposed just how unwell cities are. And now they're rethinking their centuries-old landscapes: moving away from cars, pollution, and endless consumerism and retail to develop far more green and communal spaces. They're rewilding their concrete jungles into urban forests, farms and wildlife oases. Cities–in diverse, powerful ways–are being reimagined around accessible and affordable wellness.
There are so many examples of the new "urban playgrounds," where nature meets wellness and fitness. New manmade beaches and boardwalks, free pop-up wellness and fitness classes, and even water sports are hitting some very unexpected cities: New York, Paris, London, Sydney, Madrid, Tokyo, to name a few. What a welcome wellness and fitness trend.
At London's new riverside park, The Tide, people can do a meditation circuit and take free classes like yoga. Madrid is spending $100 million to create 14 in-nature 'wellbeing hubs' across the city that mix sports and fitness activities. This democratic trend will provide an alternative to pricey boutique fitness/wellness classes for urbanites.
Survivalist Wellness: The "Why" of Fitness Changes to Becoming "Fit for a Volatile Future" 
The endless global crises–from the pandemic to war in Ukraine–have brought a significant shift in how we view self-care, recasting it to build readiness and resilience. The fast-rising global trend of functional fitness fits squarely here: movement that preps you for real-world, unpredictable activities and environments (building balance, coordination, basic strength and endurance)–rather than only preparing you for yet another gym workout.
Lifting heavy, awkward objects; crawling, climbing and jumping more, for example. It's why F45's functional workout is one of the fastest-growing franchises in the world and why Laura Zerra's backcountry survivalist functional fitness model, which helps people build the grit to tough it out in unknown situations, has such buzz. And why there has been such an obsession with positive stress training such as the Iceman, Wim Hof's program, with extreme cold and breathwork challenges.
GQ just detailed how the US Army's new, radically different physical fitness test (its first change in 40 years) says much about where fitness in general is headed. The new test is all about functional strength/moves (not ones you do at the gym), from deadlifts to planks to sprinting while dragging a sled. Being "military fit" is converging with becoming "future fit," which is why functional "Be Military Fit" in the UK or "Military Fit" programs are rising. 
Certified Health & Wellness Coaches Are Rising: More Fitness Professionals Will Work with These Experts in Motivating Behavior Change 
The world spends $8.3 trillion a year on healthcare and $4.4 trillion on wellness, and we still can't stem the tide of chronic disease. Behavior change is THE toughest nut. That's where the new certified wellness coaches come in: trained in evidence-based conversational techniques that get people discovering their internal motivation to hit realistic wellbeing goals, certified wellness coaches, unlike doctors, spend real time with people.
Having science-based training in helping people spark and stick to healthy changes is a skill anyone in health and wellness should have. More fitness and yoga practitioners are now getting certified in this coaching practice and even making it their new career. The future for certified health and wellness coaches is more and more collaboration. They will increasingly work with doctors, insurers, employers, physical therapists, fitness trainers, nutritionists, mental health professionals…and people independently.
The future of healthcare, of wellness, and fitness, is increasingly a multidisciplinary team approach.
Wellness Welcomes the Metaverse: Made for Fitness
No wellness sector will be as transformed by the metaverse as fitness–from workouts as virtual multimedia events to an explosion of gamified models that pay you to move. It's telling that the first acquisition Meta (formerly Facebook) made was to buy Supernatural, a virtual reality platform for high-intensity workouts set in otherworldly worlds. The metaverse and fitness have unique synergies, where lifelike, super immersive worlds (that blend music, extraordinary visuals, wearables, star practitioners, etc.) can ramp up people's engagement with movement in new ways.
Gamification is the hot fitness trend now. Companies like Mulu and Play Pulse use gaming to keep people motivated to compete with themselves and others. But now, every week, there seems to be a new move-to-earn company that pays people in various ways to exercise. Fitcoin, Walken and STEPN are among many new platforms that pay you cryptocurrency – and a study last month (by FitRated) found that 81% of Americans would be motivated to stay fit by earning cryptocurrency by exercising in the metaverse.
Ness Rewards pays you for reaching fitness goals by giving you money off wellness brands. With Global Fit Club, members buy their NFT and earn free access to real gyms. These companies all launched in the last month or so. While there is much to work out with many of these move-to-earn models, one thing is clear: the metaverse will transform fitness and fitness will transform the metaverse–as one of its true bright spots.
Images and captions to accompany the trends can be found by clicking here.
About the Global Wellness Institute: The Global Wellness Institute (GWI), a nonprofit 501(c)(3), is considered the leading global research and educational resource for the global wellness industry and is known for introducing major industry initiatives and regional events that bring together leaders to chart the future. GWI positively impacts global health and wellness by educating public institutions, businesses and individuals on how they can work to prevent disease, reduce stress and enhance the overall quality of life. Its mission is to empower wellness worldwide.
[1] https://globalwellnessinstitute.org/industry-research/global-economy-physical-activity/