We can help you with your story. Please contact Beth McGroarty; beth@rbicom.com +1.213.300.0107
Featured stories:
Susie Ellis on the medical travel show
Susie Ellis, Chairman & CEO of the Global Wellness Institute, shares her insights, information and ideas with The Medical Travel Show audience in her recent interview. In our increasingly stressful world, Ms. Ellis makes a compelling case for the role of prevention through lifestyle change, including spa and wellness treatments.
Listen to full interview here.
---
GWI and UNWTO plan joint projects
The GWI has signed an agreement with the World Tourism Organization (UNWTO) of the United Nations, to jointly implement projects that address the role wellness tourism can play in helping increase tourism overall.
Taleb Rifai of UNWTO says, "We are following with great interest the evolution of wellness tourism and will work with GWI on initiatives that will allow countries to develop this important segment." Read full article.
2015: The Year of the Ministry of Wellness?
Susie Ellis, Chairman & CEO, Global Wellness Institute; Co-authored by Renee Moorefield, CEO, Wisdom Works
Feel ill? Head to the doctor. Get diagnosed. Treat the issue. (Also known as: Douse with meds. Take a few days off work. Stumble back to the office. Repeat.) Sound familiar?
For too long, discussions about wellness have centered on traditional medical treatments, and Western healthcare systems have maintained a focus on illness and disease, making our hospitals and clinics more like "fix-it shops" than agents of prevention.
It's time for a change. And it's time governments around the world not only recognize that prevention is the key to wellness but also begin to do something to fix our broken health systems.
Something big.
Read full article on Huffington Post.
---
Recent Press Releases
Media Coverage
STATISTICS & FACTS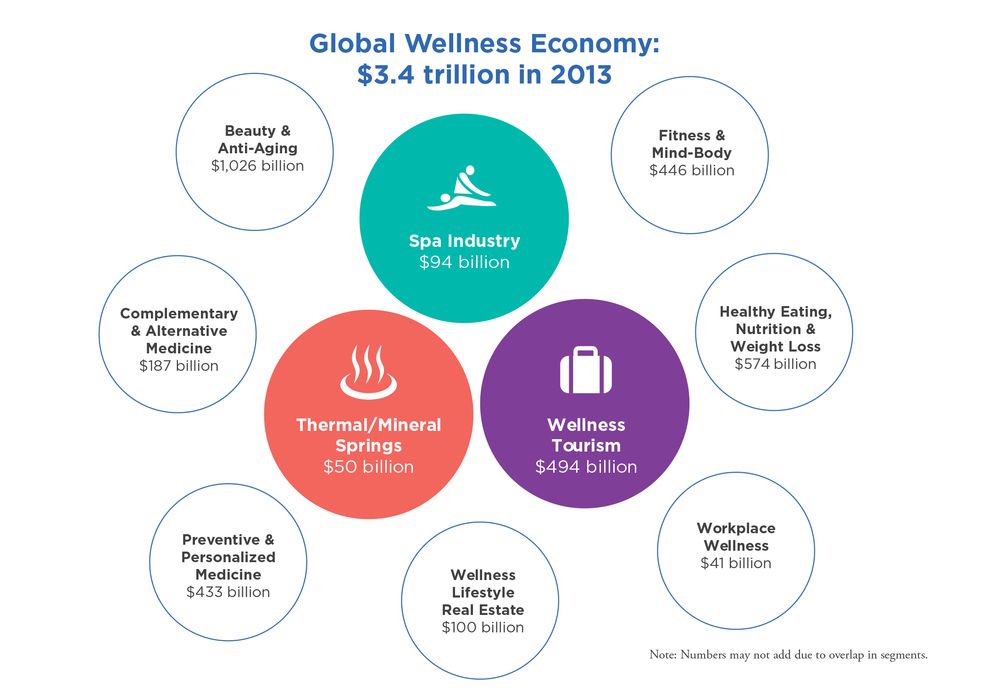 Wellness sectors seeing the most significant growth since 2010 are:
Healthy eating, nutrition and weight loss (108 percent increase to $276.5 billion)
Preventative and personalized health (78 percent increase to $243 billion)
Complementary and alternative medicine (65 percent increase to $113 billion)
Beauty and anti-aging (51 percent increase to $679 billion)
Other key highlights:
The spa industry grew 58 percent from $60 billion in 2007 to $94 billion in 2013, with 47 percent increase in spa locations from 71,762 to 105,591
Wellness tourism expanded to $494 billion in revenues, rising 12.5 percent from 2012, significantly outpacing SRI's original growth forecast of 9 percent
The first-ever assessment of the thermal and mineral springs sector, which accounts for $50 billion in revenues and spans 26,847 properties worldwide
 
Global Wellness Institute in the News
Wellness Tourism Industry Reaches $495 Billion in Revenue
Tourism Review, 5 October 2014
"According to Ellis, there are many reasons for the rapid growth. Some of these include the aging population, rise of lifestyle illnesses, widespread economic prosperity, stressful living, traditional healthcare failure and more. All these factors have led to the wellness movement. Some reports suggest that the worldwide wellness economy is worth $3.4 trillion. This is thrice the revenue for the worldwide pharmaceutical industry."
Sub-Saharan Africa Is Fastest-Growing Region for Wellness Tourism
SKIFT, 3 October, 2014
"Sub-Saharan Africa is the world's fastest growing region for the amount of trips taken to the region. Last year, tourists spent $3.2 billion on wellness experiences in the region, a 57% increase from the previous year. Sub-Saharan African countries welcomed tourists on 4.2 million wellness trips in 2013, representing a 90% increase year-over-year."
Global Spa, Wellness Industry Estimated at $3.4 Trillion: Report
The New York Times, 30 September 2014
"The report showed that the number of people taking international and domestic wellness tourism trips grew by 12 percent from 2012 to 2013. That was 36 percent faster than overall tourism trip growth, which is estimated at 9 percent."
Wellness Tourism Growing Worldwide
Financial Tribune Daily, 7 September 2014
"And while the 525 million trips made by wellness travelers represent only 6 % of all tourism trips, they account for 14 % of all tourism spending. Wellness travelers tend to be wealthier, have achieved a higher level of education, and spend more per trip on average. For example, an international tourist on average spends $1,000 per trip (not including international air travel), while an international wellness tourist spends 65 % more. The differential between an average domestic traveler and a wellness traveler is even greater, with domestic wellness travelers spending 2.5 times the average domestic tourist per trip."
 
---
AS SEEN IN: